OpenEasy Tape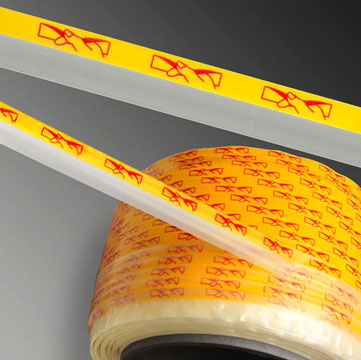 OpenEasy™ is a pressure-sensitive material that, when used with Sealstrip's OpenEasy applicator, creates a patented, easy opening feature for flexible packaging. OpenEasy can be used on both shrink and non-shrink packages. The OpenEasy material is a pressure-sensitive tape with a linear, non-adhesive grip area. Maintaining a hermetic package, OpenEasy is the first system of its kind designed for use with barrier films.
OpenEasy tape is applied in-line with the adhesive area centered over an intermittent perforation in the film. The product is then wrapped as usual with the OpenEasy feature on the outside of the package. Shrink packages are then sent into the shrink tunnel. The non-adhesive area of the OpenEasy material provides a grip feature to facilitate the tearing open of the package.
Sealstrip is the only easy open materials manufacturer that also designs and builds applicators for retrofit to all the world's packaging machinery.