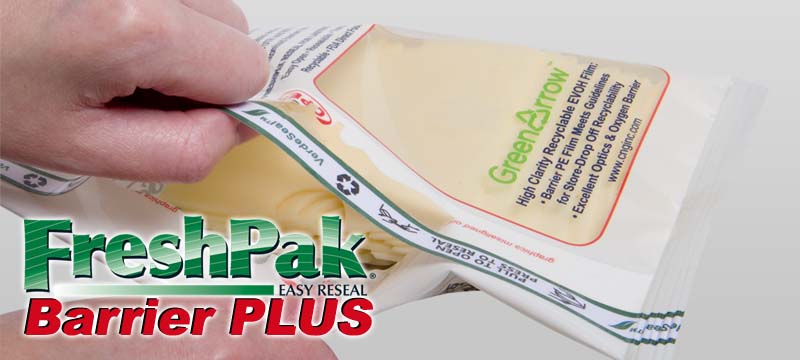 FreshPak Barrier PLUS System
The FreshPak Barrier PLUS System provides superior barrier protection, recyclability, and an easy open, resealable feature with unique TamperTear® feature for enhanced tamper evidence. A retrofit applicator forms the convenience feature's opening within the end seals to avoid 'leakers' and maintain film barrier properties and the system can utilize a Sealstrip customized barrier reseal tape to further enhance the product protection.
The FreshPak Barrier PLUS System enables the reseal feature to open within the end-seals, maintaining the package OTR and WVTR prior to opening. This new system by Sealstrip intermittently applies the TamperTear undercut within the end-seals and under a specialized pressure sensitive reseal tape -avoiding the "leakers" caused where other features were previously applied continuously through seal areas. Sealstrip Barrier PLUS System is designed to maintain package barrier properties, and keep products fresher longer in their original packaging.
Like the standard FreshPak reseal system, Barrier PLUS provides the same consumer convenience with no loss in operational efficiency or structural integrity. This feature is also available as FDA Direct compliant and recyclable, utilizing the new VerdeSeal™ recyclable material by Sealstrip to enable store drop-off recyclability.
FreshPak Barrier PLUS is patented.
Perfect for:
Sliced Cheeses & Deli Meats

Tortillas, Wraps, & Crusts
Candy and Snacks
Refrigerated and Frozen Foods
Baked Goods
Fresh Produce
Shelf Stable Foods
Call 1-888-658-7997 for more information about the Barrier PLUS system.