Easy Open Flexible Packaging Solutions
Whether it's Peelwrap®, Shrinktape® or Teartape, all of these systems make your products easy to open with a pull tab or large grip area.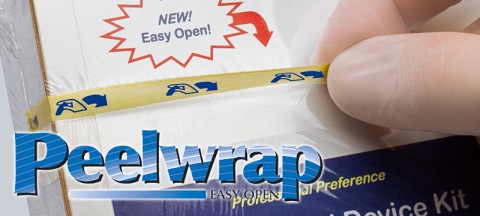 Peelwrap
Peelwrap is a feature for shrink and non-shrink packaging that provides an area to hold onto and pull to open.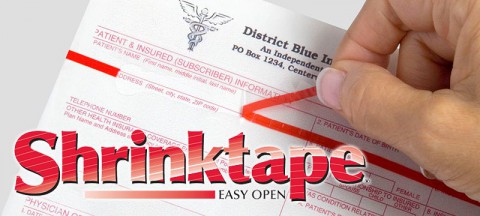 Shrinktape
Shrinktape provides an inexpensive, recognizable feature to create an opening in the shrink film.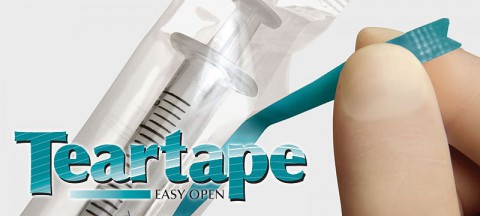 Teartape
Teartape provides an easy-open feature for overwrap packages - ideal for medical devices!
Why add Easy Open?
Protect Product from Blade Damage
Protect user from injury
Easier for Children and Seniors
Easier for Gloved Users
Tamper Evidence
Recyclable
Headache-Free Materials
Sealstrip Materials are manufactured in the USA in our American Institute of Baking (AIB) Superior Rated, audited facility. This rating ensures our products are safe for use with food products. Our customers count on us to keep their production lines running, with our inventories high enough so theirs can be low. Hours of continuous operation between roll changes, and maximizing in line efficiency with high quality builds our customer loyalty.
Easy to Implement Applicators
All of our applicators are designed for seamless integration with the wrapper. Our applicators apply the easy open or resealable material and form the feature, then send the film into the package forming area. Our applicators have been recognized by plant and production managers worldwide as the most efficient systems available. All systems are manufactured in the USA.
Easy Open FAQs
Which is better for my product, Shrinktape, Peelwrap, or OpenEasy?

The answer to this question depends on your product. For example, if you are wrapping a food product, you might prefer Peelwrap because there is no tab hole created in the packaging film. If your package is small, a 3.4mm wide Shrinktape may be a perfect fit. If you are wrapping a medical device that will be opened by a technician with gloved hands, the wide grip area of the Peelwrap material might be the ideal solution for your package. If your food product is packaged on a continuous motion, rotary shrink wrapping machine, OpenEasy may be your best choice as there is no tab hole in the package and only six inches of tape per package. As you can see, there are many variables to consider. Sealstrip representatives will work with you to determine which easy open feature is right for your application.
Can I get a sample of my packaging with an easy open feature added?

Yes! At Sealstrip, we understand that sometimes nothing is better than seeing for yourself how consumer friendly your package can be. Send us some of your product, and a stub roll of your film. Our sample department will work with your product and film to incorporate a Sealstrip easy open feature into your package. A Sealstrip representative will gladly arrange that for you today. Simply call 1-888-658-7997, extension 106.
Does the tape go all the way across the package? Can it go only partway across the package?

For both the Shrinktape and Peelwrap systems, the tape is applied in the machine (film flow) direction, from end seal to end seal. The OpenEasy system applies a six inch (150mm) length of OpenEasy tape to the shrink film.
Is the tape applied before or after the package is shrunk?

The tape is applied before the package is shrunk.
Can I get the material custom printed?

Yes! Peelwrap, Shrinktape, and OpenEasy can be printed with your choice of logos, slogans or graphics. A colorful, easy open feature is a sure-fire attention getter, and an excellent way to differentiate your package from your competition.
Do I need to purchase the Peelwrap/Shrinktape/OpenEasy applicator in order to run the material?

Yes. Peelwrap, Shrinktape, and OpenEasy applicators don't just apply the pressure sensitive material to the packaging film. Each applicator performs a unique function essential to creating the easy open feature of each system. The Shrinktape applicator's tab forming assembly creates the pull-tab that is used to open the package. The Peelwrap applicator has a perfing device which creates the necessary perforation integral to the performance of the Peelwrap material. The OpenEasy system has a perforating device which creates the necessary perforation integral to the performance of the six inch length of OpenEasy material.
To what kind of wrappers does Sealstrip retrofit?

Sealstrip manufactures Shrinktape applicators for retrofit to inverting L-sealers and continuous motion wrappers. Peelwrap applicators are available for retrofit to straight and inverting L-sealers and continuous motion wrappers. OpenEasy applicators are available for retrofit to continuous motion wrappers.
How will the applicator retrofit my wrapper?

Sealstrip custom designs mounting brackets that allow the applicator to retrofit in the film unwind area of your specific wrapper.
Can the applicator be bypassed?

Yes, all applicators can be easily bypassed. It is a simple matter to disengage the tab forming device (Shrinktape) or the perforating wheel (Peelwrap), and cut the tape. For the OpenEasy system a button is pushed. The packaging film will continue to flow through the applicator, but the easy open material and feature will not be applied to the film.
Can I run Shrinktape on a Peelwrap applicator (and vice-versa)?

No. Each applicator is custom designed to perform specific functions. A Shrinktape applicator is not designed to create the perforation essential to the Peelwrap easy open feature. Likewise, the Peelwrap applicator does not create the pull-tab that is necessary to the Shrinktape easy open feature. An OpenEasy applicator will apply either an OpenEasy six inch length of material or continuously apply Peelwrap material.
How does the Shrinktape tab get on the package?

The Shrinktape® Applicator has a tab forming assembly which is air or film driven (depending upon the type of wrapper you have). Positionable rollers allow for precise tab placement on your package. After the Shrinktape is applied to the film, the tab former fires and makes a small, semi-circular cut over the Shrinktape and the packaging film. When the package passes through the shrink tunnel, the Shrinktape shrinks with the packaging film, and the pull-tab is formed. For more information and sample animations visit the Shrinktape Applicators page.
What kind of technical support do you offer?

Sealstrip is here for you 24/7. During business hours (8:30 a.m. – 5:00 p.m. Eastern Time) our knowledgeable staff of customer service representatives will help with any questions you may have. For technical support, Sealstrip's engineering staff, with 40+ years of packaging industry experience, is on-call to assist with your specific application. For after hours operational emergencies, our toll-free number, 1-888-658-7997, provides contact information for immediate assistance.
What warranty do you have on your applicators?

Sealstrip Corporation guarantees the mechanical performance of its systems to apply the pressure sensitive material to the film, and further guarantees that every package will open easily. All Sealstrip applicators come with a one year warranty on parts and labor, excluding the tab former (Shrinktape) and perforating wheel (Peelwrap).
How do I become a distributor?

Call Sealstrip's Distributor Service line at 1-888-658-7997 extension 106 and ask for Sally Giacherio. She will assist you with the distributor qualification process.
In what regions do you sell?

Sealstrip products are distributed in the U.S.A. and world-wide with the assistance of a distributor network. If you would like to find a Sealstrip distributor in your geographic area, please call 1-888-658-7997, extension 111, and a Sealstrip customer service representative will be happy to find a distributor nearest you.