Packaging Under Pressure
How can a tape improve your brand's bottom line?
65% of consumers want resealable features on packaging, according to a recent FPA survey. And they're willing to pay 14% more for it.
How can you get the most out of that 14% premium while meeting your consumers' needs?
You need to add resealable to your packaging, but you don't want to pay for costly zipper or label machines. Think of the down time, the increased inventory needs, the additional film! Will you still be able to fit the same amount of product on the store shelves when that feature increases your pack size? What does this mean for your sustainability initiative?
Who needs that headache?!
Sealstrip's resealable tapes will enable you to get the most out of that 14% premium. Here's how…
What is a "Pressure Sensitive Tape?"
Sealstrip manufactures easy open and resealable features using specialty tapes. Each tape is a single-sided pressure sensitive adhesive -which fully seals the package to keep the product fresh and protected- with a non-adhesive linear edge for the consumer to easily grip when opening package. The adhesive also provides the resealable capability; simply press to close!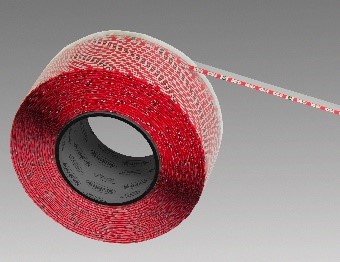 Because the pressure sensitive tape is thin and flexible, it moves as flexibly as the packaging film. These FDA compliant tapes maintain flexible packaging barrier properties while being moisture resistant and freezer compatible.
Sealstrip's Pressure Sensitive Tapes are Cost Effective
Pressure sensitive tapes are the most cost effective alternative to traditional reclosable features such as zipper packaging, labels, or tin-ties for flexible packaging.
Little to no extra film is needed to add Sealstrip's resealable tapes, so your package size will remain the same. There is no need for increased storage space or more shelf space in the market.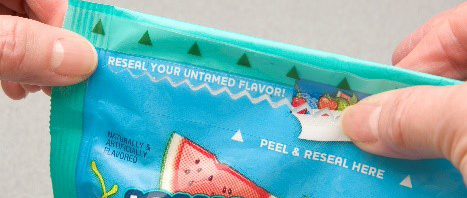 Sealstrip's tapes are applied in line by applicators retrofit to your existing machinery! All of our applicators are designed for seamless integration with the wrapper. Long length tape rolls provide extended run times. There is no costly new machinery or downtime, and these applicators are energy and space efficient and run at your line speed!
Sealstrip's Pressure Sensitive Tapes are Convenient
Because Sealstrip's tapes are pressure sensitive, they are easy for all to use, including children and seniors. Simply press to close! It works again and again, keeping the product contained and fresh, reducing waste.
Consumers will pay more for convenience features - 14% more for resealable! They will also pay 12% more for easy open – Sealstrip's features provide that too!
With less overhead and production costs to you, and consumers willing to pay a premium for resealable, Sealstrip's pressure sensitive tapes are the solution to your packaging's bottom line!
Contact us today to find the best feature for your product!