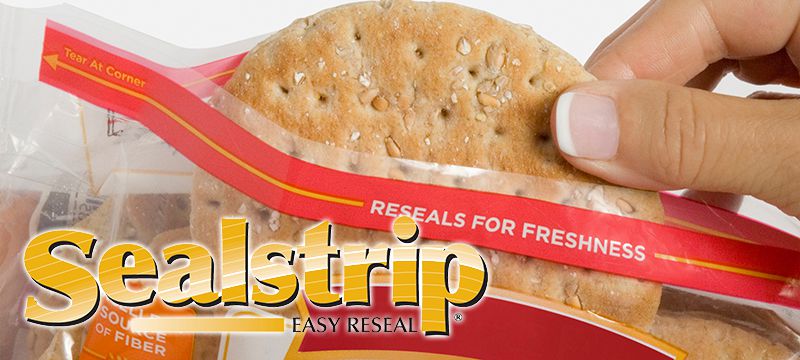 Sealstrip
Sealstrip® is easy to open, easy to reseal and provides tamper evidence.
Consumers love Sealstrip because it is easy to use, tamper evident and there are no tracks to line up! By simply tearing open the Tearstrip the package shows tamper evidence and is opened full width. The consumer simply presses the Sealtape together to reseal the package, keeping the product fresh!
You'll love Sealstrip because the retrofit applicator and pressure sensitive tapes are cost effective, run at your line speed on your wrapper, and maintain package barrier properties.
Now available as a Recyclable Reseal!
Perfect for:
Refrigerated and Frozen Foods
Baked Goods and Snacks
Personal Care
Sealstrip Applicators
The Sealstrip® Applicator is a self-contained system that interfaces with your current wrapper, automatically converting the packaging film at your line speed. The applicator forms the tamper evident, easy open, resealable feature in the direction of film flow, creating a package that opens and reseals from end seal to end seal.
The Sealstrip applicator has proven efficiency on Fast Moving Consumer Goods (FMCG) lines. The Sealstrip applicator does not depend on heat to apply, resulting in consistent quality packages at 10 ppm or 200 ppm.
There is no reduction in line speed and no change in wrapper design. Sealstrip can be retrofitted to new or existing wrappers.
Call 1-888-658-7997 for more information on the Sealstrip System.
Sealtape
Available clear or custom printed
Long length rolls for extended run time
Compatible with a wide variety of films and gauges
Custom formulated for optimum performance
FDA compliant
Moisture resistant and freezer safe
Cost-effective: less than one cent per package
NOW Available as Recyclable Material!