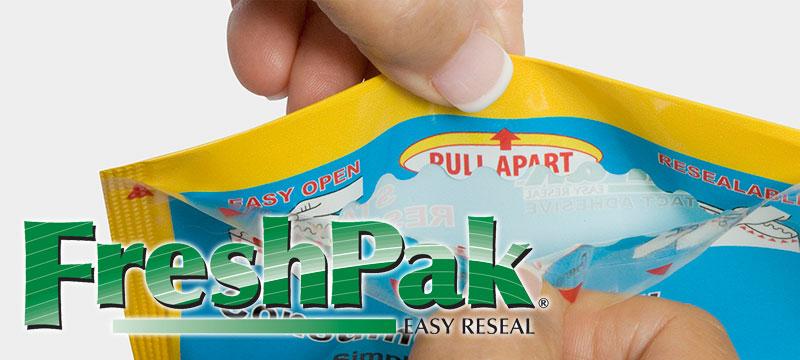 Freshpak
FreshPak® is easy to open, easy to reseal, and provides tamper evidence.
Consumers love FreshPak because it is easy to use, tamper evident and there are no tracks to line up! By simply pulling the convenient grip area of the FreshPak tape, the package is opened full width. The consumer simply presses the FreshPak tape to reseal the package, keeping the product fresh!
You'll love FreshPak because the retrofit applicator and pressure sensitive tapes are the most cost effective, run at your line speed on vertical baggers or horizontal flow wrappers, and maintain package barrier properties.
NO additional packaging film is required! NOW Available as RECYCLABLE Material!
Perfect for:
Tortillas, Wraps, & Crusts
Candy and Snacks
Refrigerated and Frozen Foods
Baked Goods
Fresh Produce
Shelf Stable Foods
Personal Care Items
FreshPak Applicators
The FreshPak® applicator mounts at the film unwind area of your wrapper, slits the film in the film-flow direction and applies the FreshPak tape over the slit. The mounting is custom designed to fit each individual wrapper. The FreshPak applicator is manufactured in the USA.
The FreshPak applicator utilizes a smooth simple rotary unwind adding package efficiency, durability, and consistency to your production line.
FreshPak Materials
The FreshPak®, FDA compliant material, is a pressure sensitive tape with a non-adhesive linear edge for the easy to grip, easy open feature. The feature maintains package barrier properties while being moisture resistant and freezer compatible. FreshPak is provided on long length rolls for extended run times.
When the package film is designed, tamper evident graphics are added, providing a visual tamper evidence when the package is opened.
FreshPak is a cost effective alternative to traditional reclosable features such as zipper packaging or tin-ties for flexible packaging.
Call 1-888-658-7997 for more information about the FreshPak system.