Lightweight Packaging with Heavyweight Benefits
Feeling defeated by rising packaging costs while demand for packaged goods is at an all-time high? Don't hang up your gloves just yet…
While many aspects of packaging experienced speed bumps in the past 2 years, innovation wasn't one of them. Flexible packaging has made huge strides in minimizing material and waste, while maximizing efficiency and investment. According to recent studies by the Flexible Packaging Association (FPA), collaborations between film producers and equipment manufacturers have "produced new levels of functionality"1 in the film world. Advancements in production of flexible packaging optimized lightweighting, resulting in overall sustainability benefits with cost reductions and the most seamless integration of convenience features yet.
50% Material Reductions Result in Optimized Lightweighting
New polymer technologies provide improved material toughness/puncture resistance, product protection and equipment handling.

Improved application techniques and barrier science achieve the same barrier properties on less material.

New equipment, resins and manufacturing reduce shrink films.
Sustainability Benefits
Lower carbon footprint
Reduced energy usage
Less waste
Save food
These lightweighted material improvements have led to numerous sustainability benefits. Carbon foot print and energy usage in production can be dramatically reduced with the FPA citing one example of a flexible pouch requiring 75% less energy in production and generating 1/10 the emissions of the rigid packaging alternative!1
While providing up to 50% material reduction, recent innovations also maintained toughness of the films, avoiding end of line waste previously experienced. Furthermore, improved barriers with increased packaging options and resealable features save food through preservation of freshness.
Functionality Benefits
"Flexible packaging materials are customized to meet product protection specifications and provide safety, quality and convenience." (FPA)1
New films are designed to address: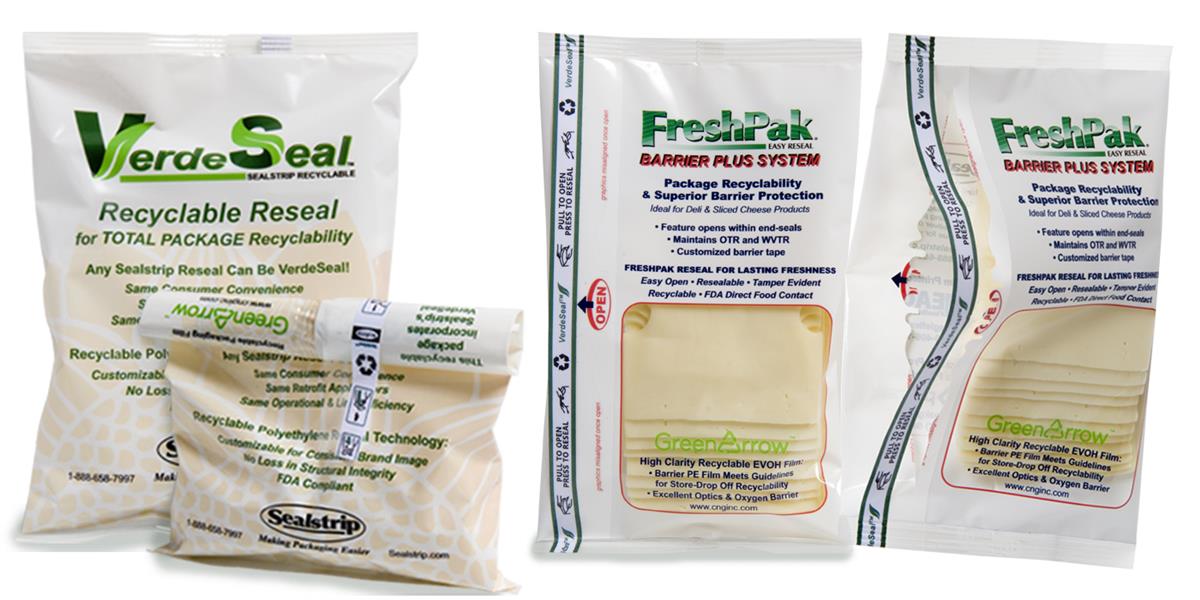 Product needs – Barrier
Brand goals – Recyclable
Consumer Demands – Convenience
Speaking of saving food…packaging for deli, cheese, high odor foods, products in markets with high humidity or temperatures and more require effective barrier films to preserve freshness, and now these barrier films have been improved to provide lighter, thinner options with the same barrier properties. (Pro tip: Sealstrip's BarrierPlus System offers an easy open and resealable feature with superior barrier protection!)
Also meeting product needs are the new store-drop off recyclable films! Functioning the same as other films, and providing the same product protection and freshness, these lightweight options are also good for the environment and an answer to brand goals and consumer desires. (Sealstrip also provides recyclable convenience features for the complete package with the new VerdeSeal!)
Perhaps the greatest advantage of these new lightweight, high-functioning films, is that they can provide the consumer-demanded convenience features for which brands can charge a premium. Read on for how much!
Cost Benefits
Let's crunch some numbers and get to the bottom line…
Save on production
Save on transport
Win sales
Prior to consumer usage, flexible packaging takes less energy, generates less emissions, requires fewer trucks to transport (less fuel, less emissions), and reduces spoilage and waste.
Packaging accounts for only 10% of energy used for producing food for consumption, and 80% of waste happens at the consumer level. "Discarded food wastes not only the food, but the resources to produce, transport, package and store food"3 and 10-15% of revenue is lost due to spoilage, age dating, package damage and mark downs. ReFED estimates "preventing food waste could decrease food costs by up to 20 percent."4
After you decrease the cost, increase your sales! According to the 2022 Global Buying Green Report by Trivium,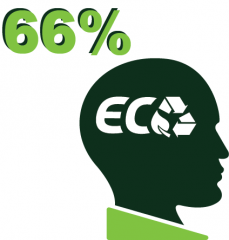 66% of consumers have chosen a product in the last six months based on its sustainability….Brands risk reducing their market share when they cannot meet consumer demand for sustainable packaging. Consumers are 57% less likely to buy products in packaging they consider harmful to the environment. Forty-four percent go one step further and declared they "won't buy" products in packaging that is harmful to the environment.5,6
Importantly, Allied Market Research noted: "The Global flexible packaging market is expected to reach $325.6 billion by 2030, growing at a CAGR of 6.2% from 2021 to 2030."7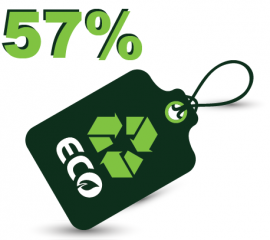 As mentioned above, flexible packaging is designed to enable optimum functionality, including consumer-valued convenience attributes. 65% of consumers value resealability and 60% value easy top open in their packaging, and they're willing to pay over 10% more for the benefits!8
Lightweight packaging with heavyweight benefits will help you stay ahead in today's market - and with Sealstrip in your corner, your package is a knock-out! So, go ahead, flex.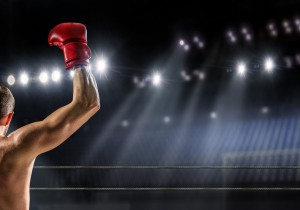 Sealstrip easy open and resealable features for flexible packaging are enabled by the latest innovations to ensure your packaging is optimized for consumer experience and brand-boosting sales. Our product development department focuses on the needs of the market from cost to function to sustainability. Contact us and we'll discuss your opportunities and send you free samples!
Sealstrip is a proud supporter of Feeding America. The issue of food waste is important when 1 out of every 8 Americans are food insecure. Learn more here.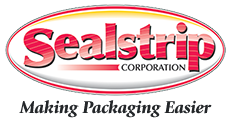 With over 40 years of engineering innovative solutions, Sealstrip Corporation provides flexible packagers with the resealable and easy open packaging solutions that are essential to compete in today's consumer market. The company designs and manufactures applicators that retrofit to customers' existing wrapping machinery. Sealstrip also manufactures the pressure-sensitive tapes used to form the easy open and resealable features on flexible packages. Although Sealstrip distributes worldwide, products are designed and made in the USA.
Flexible Packaging Association (FPA) (2021) "Leading the Way Innovation Brochure"

BSR "Food Waste Tier 1 Assessment" for GMA/FMI

ReFED (2016) "A Roadmap to Reduce U.S. Food Waste by 20 Percent"

Trivium Packaging (2021) 2021 "Global Buying Green Report"

Trivium Packaging (2022) 2022 "Global Buying Green Report"

Allied Marketing Research (2019) "Global Opportunity Analysis and Industry Forecast, 2021–2030"

Flexible Packaging Association (2018) "State of the Industry"PMMI (2021) "Packaging Machinery Quarterly Update"

Flexible Packaging Magazine (April 2022) "Preference for Sustainable Packaging Remains Strong"

Flexible Packaging Magazine (April 2022) "New Product Launches Transform the Packaging Industry"