Can a Package Have a Reseal AND Maintain a Superior Barrier Property?
You don't need to read this whole article – the answer is YES.
But, in case you're wondering why and how…
Why?
A common issue with packages requiring superior barrier properties but also wishing to give consumers a resealable feature is LEAKERS. (Learn more here!) Packaging for deli, cheese, high odor foods, products in markets with high humidity or temperatures and more require effective barrier films to preserve freshness. These films are designed with specific barrier goals in mind, and why pay for all that if a consumer-desired reseal can cause costly leakers and waste? Well, a good reseal doesn't have to…
How?
How can a package have a reseal feature and maintain a superior barrier property? The answer is two-fold: a reseal feature that provides barrier* as well as a non-continuous application of the opening feature. Continuous application of reseal features requires both a cut through the end seals AND sealing through the feature and end seals, resulting in barrier failures. (Read more about seal temperature variance and leakers here!)
The Barrier Plus System
Continuous application is quite common for reseal feature application in the packaging world, and leaker issues in the seal area for packaging requiring superior barrier are equally prevalent. Sealstrip has designed a barrier plus system for reseal packaging to reduce leakers. The Barrier Plus System combines two system upgrades: first, the resealable package opening feature is an intermittent slit that does not violate the end seals and second, a customized barrier tape is continuously applied over the opening, designed to meet the specific barrier requirements of the packaging film and maintain the package OTR and WVTR properties.
You can maintain superior barrier properties AND please your consumers with resealable packaging!
Did we mention this reliable Sealstrip resealable feature is also easy open, tamper evident, with custom printing options and FDA direct food compliance options? And the entire system is retrofit to your existing wrapper or bagger and runs at line speeds? Recyclable solutions are also on the horizon - your package's future awaits!
Maintain barrier properties and win over consumers with convenience with Sealstrip easy open and resealable features for flexible packaging! Contact us and we'll discuss your opportunities and send you free samples!
*Learn more at this year's Pack Expo!! We'll be featuring these solutions and more!
For more on leakers, the cost of packaging failures and how to avoid them- click here!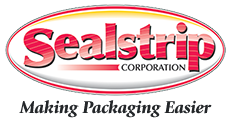 With over 40 years of engineering innovative solutions, Sealstrip Corporation provides flexible packagers with the resealable and easy open packaging solutions that are essential to compete in today's consumer market. The company designs and manufactures applicators that retrofit to customers' existing wrapping machinery. Sealstrip also manufactures the pressure-sensitive tapes used to form the easy open and resealable features on flexible packages. Although Sealstrip distributes worldwide, products are designed and made in the USA.
Research and statistics from DuPont Packaging, PolyPrint Inc. and Sealstrip Corporation.
1,2 DuPont Packaging, Morris, Barry. "Sure Ways to Reduce Package Sealing Failure." http://www2.dupont.com/Packaging_Resins/en_US/assets/downloads/white_papers/Reduce_Package_Sealing_Failure_Barry_Morris_November_2010.pdf 2010, , pp. 1
3,4 PolyPrint Inc. "Oxygen Transmission Rate." https://www.polyprint.com/understanding-film-properties/flexographic-otr/