Preservation and Convenience for the Next Class of Snacks
Article Excerpt - see full article here.
Fresh Solutions
When shoppers seek products with fewer preservatives, snack manufacturers must respond with packaging that maintains freshness and extends shelf life, as this offers benefits for both consumers and brands. Preservation is a significant driver of profitability for baked goods brands, explained Kuecker. Limited-shelf-life products, like fresh baked goods or perishable snacks, incur economic losses due to a combination of discards, discounts and thefts. Packaging that increases shelf life can help reduce these losses while allowing retailers to feel confident stocking larger displays of baked goods. Depending on the incumbent packaging material, switching to flexible packaging can double the shelf life of packaged foods, said Kuecker.
"It's not just about wrapping things in the least costly single layer structure anymore," said Heather Chandler, president, Sealstrip (Booth #C-3502). Barrier properties in today's packaging can help foods stay fresh for longer. Brands can also turn to packaging solutions that leave less air in a package after the buyer has enjoyed part of the snack, explained Chandler. Sealstrip produces Peel&Seal and FreshPak, pressure-sensitive tape closures similar to a zipper that run as part of a flexible bag when the package is formed. Sealstrip's features are used by household brands like Frito-Lay and Mission Foods in markets around the world, with applications including bags of chips, donuts, tortillas and cookies. The airtight seal keeps food from going stale, so customers can store it for longer.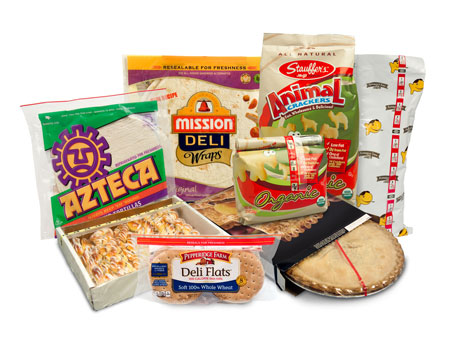 Chandler has observed a push in Europe and Australia for a reduction in preservatives, leading brands to improve packaging so foods with less preservatives have a longer shelf life. Brands in developing countries like Pakistan, Thailand and India seek longer shelf life as their packaging systems become increasingly automated and food travels greater distances, she added.
The baking and snack industry has focused on a number of new trends and technologies that offer solutions, such as barrier films, zipper closures and airtight seals that help keep the next generation of snacks fresher for longer. Baking and snack professionals will be able to see these innovations and more at PACK EXPO Las Vegas 2017, taking place at the Las Vegas Convention Center Sept. 25–27.
SnackFood &Wholesale Bakery article by: Sean Riley is senior director, media and industry communications, PMMI, The Association for Packaging and Processing Technologies.